Woodland Scavenger Hunt
Woodland Scavenger Hunt
5 May 2022 (by Tricia Douglas (admin))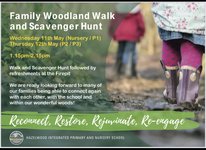 Time to Reconnect, Restore, Rejuvenate and Re-engage...
Parents' Council met recently to discuss how to welcome our families and friends back into our school, following a very different couple of years. With so many Covid restrictions in place, we had to cancel all of our events, but we are delighted that we are now in a position to start reconnecting with everyone!
We are aware that so many Hazelwood families haven't got to enjoy our school community and see what goes on behind the scenes in classrooms and on playgrounds. It is time to change this! Parental involvement is one of the core principles of Integrated Education and we are very excited to fully restore and rebuild our school community.
We have decided to organise our first event in the woods so that Nursery to P3 children can take their families out to the back of our school to give them a chance to 'show off' their outdoor learning spaces, go for a scavenger hunt in Throne Wood and toast some marshmallows at our fire pit.