Happy Diwali
Happy Diwali
7 November 2018 (by Tricia Douglas (admin))
Loads of fantastic art work going up around school today.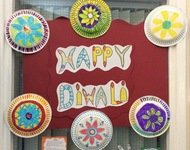 I P3 made colourful paper diya lanterns, P5 decorated paper plates with bright Rangoli patterns and had a try at some henna hand art. I also noticed a trail of glitter coming from one of the P7 classrooms.....
A big thank you to Miss O'Hagan too for working with a group outside (in the pouring rain) to decorate our entrance with beautiful chalk Rangoli art!
In the reception area we also have an example of a beautiful traditional sari outfit which was donated to the school by a one if our lovely mums.
Chevk out the photos here:
http://www.hazelwoodips.co.uk/curriculum/integration-1