Science Awards 2022
Science Awards 2022
24 June 2022 (by Tricia Douglas (admin))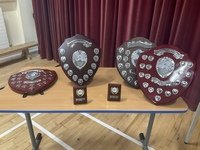 The whole school took part in Science Week at the end of May. P1 – P7 were set a homework to come up with their own investigations. Children were involved with problem solving and predicting and analysing.
We had an amazing assembly for the science winners and to celebrate all the hard work across the school. P5 also performed their 'States of Matter' rap. It was fab!
Hazelwood Integrated College helped us to choose the overall KS1 and KS2 winners. A little boy from P1 explored fingerprints in his house and a P7 girl looked at snails' shells and their patterns. Two worthy winners.