Coffee Mirning
Coffee Mirning
5 May 2022 (by Tricia Douglas (admin))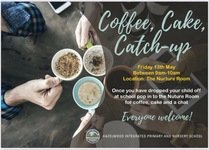 See We are delighted to be welcoming back our Hazelwood parents, carers and friends!
Parents' Council would love you to call in for a coffee, cake and catch-up after drop off between 9-10am on Friday 13th May.
No strings attached.... just call in and sit back, relax, chat and connect with some old and new Hazelwood friends.
If this is successful, we endeavour to organise more of these coffee mornings in the coming weeks too.