Events from 2016-17
A Snapshot of Life in Hazelwood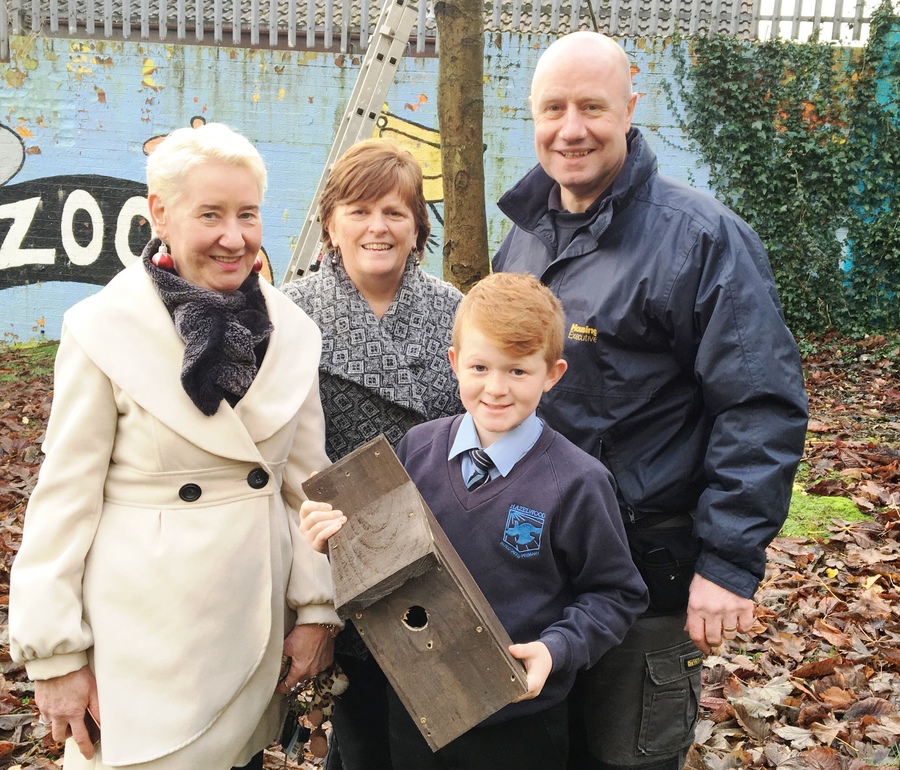 Children from Hazelwood Integrated Primary have built 50 bird boxes to provide a safe home for local birds as they enter the Spring egg laying season.

Constructed with materials provided by the Housing Executive, the bird boxes are now in place along wooded areas beside the school and the adjoining Whitewell housing estate.

Patricia Murtagh, Principal of Hazelwood Primary school, explained; "At Hazelwood Integrated we are committed to outdoor learning and we are also an 'Eco School', with a beautiful forest to our rear.

"It's always good to encourage 'hands on' learning among pupils and this was a great way of doing that, as the children built the bird boxes using proper work tools.

"We viewed this initiative as an opportunity to create something positive in our local community and this type of outreach fits perfectly with school activities in promoting active citizenship.

"We'd like to thank the Housing Executive for engaging with us so positively, giving us bird box materials and for providing ground maintenance staff to put the boxes in place."

Trudi Talib the Housing Executive's Neighbourhood Officer for North Belfast said; "In 2015 the Housing Executive developed a Pledge for Nature Biodiversity Action Plan in conjunction with the RSPB.

"We pledged to work with local schools and community groups to develop support and understanding for nature conservation projects.

"Our work with Hazelwood Integrated Primary is an excellent example of this work and our Belfast Ground Maintenance and Direct Labour teams made time and staff available to plan and carry out the necessary work.

"We hope local residents and the children themselves have a great springtime birdwatching along the 'Snakey Path' and around the school itself."
Book Launch for the 100 Year Project
The boys and girls from P6, Miss McMillan's class, were involved in a very exciting project whilst in P4 & P5. The name of it was, The 100 Year Project. It involved primary schools from both Northern and Southern Ireland completing research into a particular period in history between the years 1912 and 1922. The children from Hazelwood decided to do their research into The Suffragette Movement.
All of the information gathered by the children from the schools was compiled and put into a lovely book. The launch of the book was in Hazelwood on Thursday, 26th January. The book is really special to our school and we will treasure it for many years to come.
We are very proud of two of our pupils this week. They took part in an exciting international Taekwondo competition all the way in Dublin over the past weekend. Children from countries all around the world participated! The sister (P6) won a huge medal for 'special technique' and did a scissor kick 5 feet in the air to land the prize! The brother (P3) went through five rounds of patterns in one of the biggest categories 'Yellow Belt Boys'. Both won an extra medal for participation. Congratulations to both of them!