Monday
Action Cancer came in to talk to Nursery, P3 and P4 about the need to eat healthily and take lots of exercise.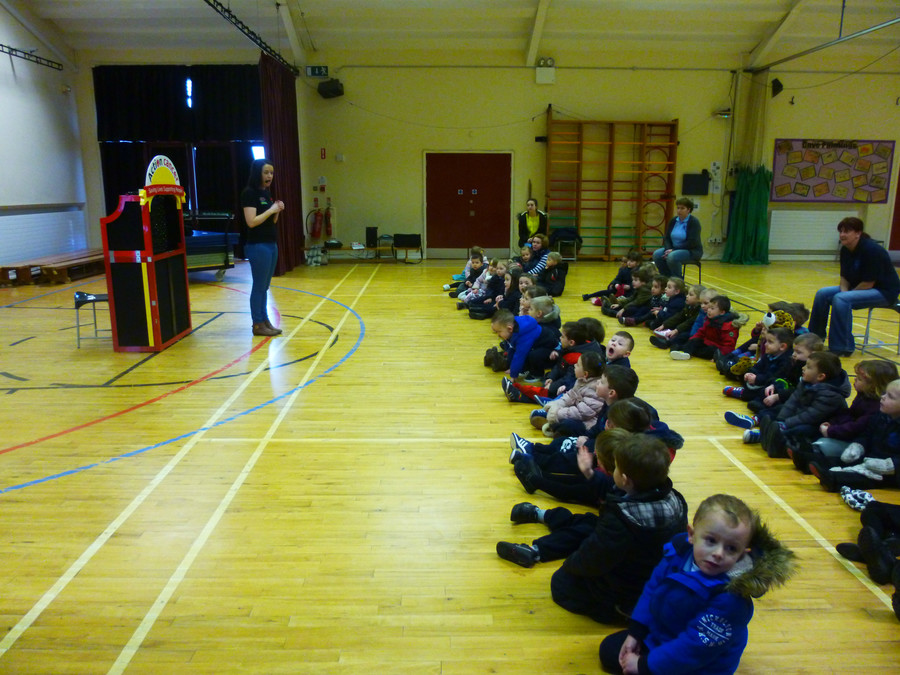 Maria from Tesco came into talk to the P7s about choosing healthy snacks. The boys and girls were able to taste some of these.
Wednesday
Cancer Focus NI brought a puppet show to Hazelwood. P1 and P2 learned about how to keep safe in the sun, the importance of taking lots of exercise and eating the right foods to keep fit and healthy.
Balanced Diet
Katie Hunter, Layla in P5's mum came in along with one of her colleagues, Susie to speak to P4 and P5 about eating a balanced diet. The children played lots of games and had to guess the amounts of sugar in different foods.
Tuesday
Key Stage One had a physical day in the hall. Kevin and Christine came in from the Sports Council and played lots of games with the boys and girls.
PC Lynne McCullough from the PSNI came into school to talk to P1 - P3 about Stranger Danger and keeping safe when out in public.
P2 had a teddy bear's picnic, the boys and girls enjoyed preparing and eating lots of healthy treats.
Thursday
Key Stage Two Physical Day
Friday
Chest, Heart and Stroke NI spoke to P4 - P7 about how to keep your heart healthy through eating the correct amounts of foods and taking daily exercise.
Dental Talks
A lovely lady called Ann spoke to the P5 and P6 classes about taking care of their teeth. She showed the boys and girls how to clean their teeth properly.